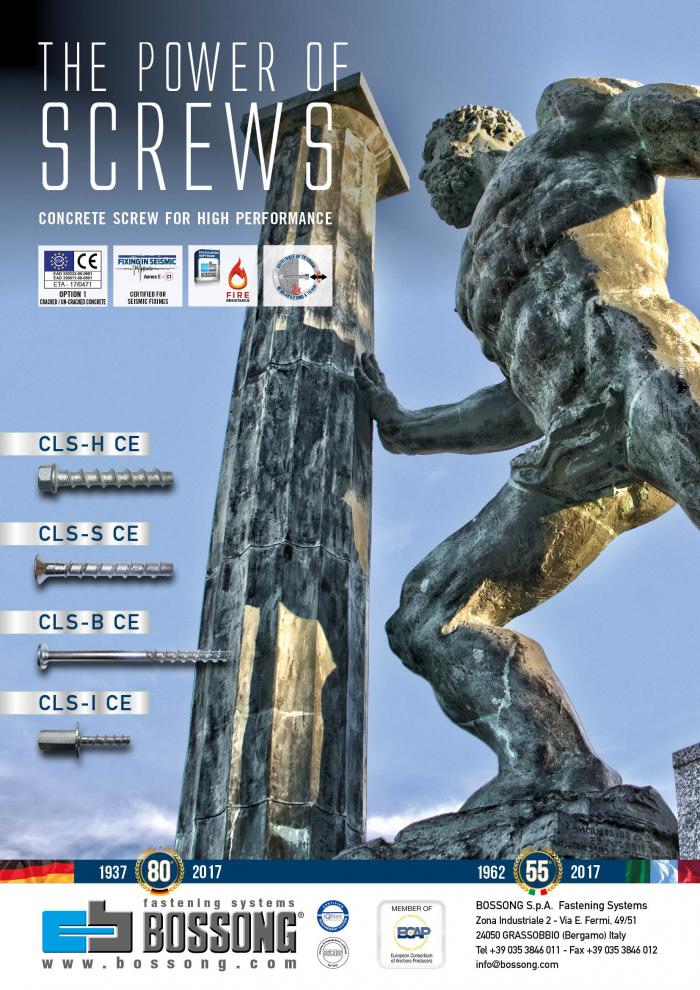 Bossong develops a constant research not only on new materials and applications, but also keeping updated on regulatory aspects of the fasteners in construction. Recent results of our research is a CLS-CE high-performance concrete screw which joins the existing line CLS.
This new screw, compared to the old, is CE marked and has the ETA assessment for cracked and uncracked concrete, with seismic qualification in category C1 according ETAG001 ANNEX and with fire resistance R120. Pretty much the best on the market in terms of certificates and approvals for this type of fastener.
The strengths of the CLS-CE screw are:
High mechanical performance;
Wide range of diameters: 6,8,10,12,14;
High flexibility of use thanks to three different depths of installation for each diameter;
Thanks to an high assortment is possible to fix thicknesses up to 95mm.
Use in cracked and non-cracked concrete;
Seismic qualification in category C1 with high performance;
Fire resistance up to 120 minutes.
Small minimum distance between anchors and small minimum distance from the lower edges;
Smaller hole diameter and therefore lower installation time with respect to others anchorage systems;
Possible adjustment after installation of the screw (screw can be recoiled twice up to 10mm if the nominal embedment depth is guaranteed).
The CLS-CE concrete screw is available in galvanized and A4 stainless steel.
There are also three different kinds of heads:
Hex Head;
Countersunk head;
Pan head.
Each type of head has a different type of assortment, with different lengths and diameters.
The main applications are as follows:
Fixing of shelves;
Anchoring of equipment;
Fixing of base plates;
Fixing of railings;
Anchoring of beams or metal profiles
Date:
Tuesday, December 19, 2017 - 1:45pm