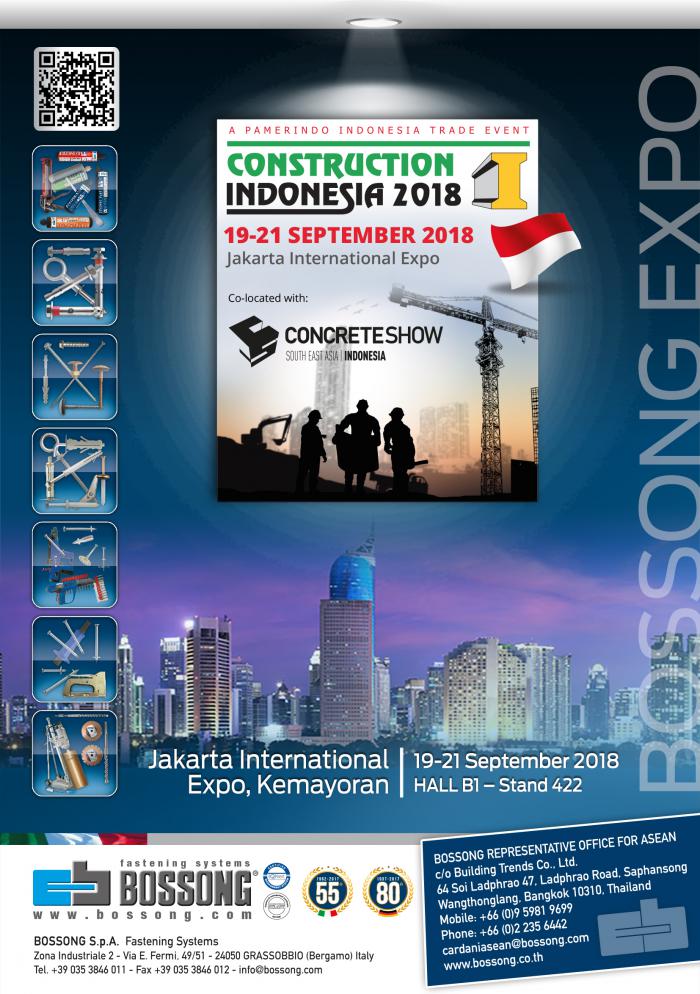 BOSSONG S.P.A., sebelumnya perusahaan Jerman, adalah produsen sistem pengencang asal Italia sejak tahun 1962. Spesialisasi kami adalah jangkar kimia (dengan epoksi murni sebagai produk terkuat kami) untuk penambatan dan sambungan rebar pasca pemasangan, pemasangan tugas berat dan pemasangan dengan serbuk. Berikut ini adalah produk-produk terpenting yang kami tawarkan:
Berbagai jangkar kimia – buatan Italia - cocok untuk segala macam bahan dasar dan segala jenis aplikasi, termasuk beton yang retak dan desain seismik: Poliester bebas styrene yang disetujui ETA (juga tersedia tanpa ETA), Epoksi-Akrilat bebas styrene yang disetujui ETA, Vinylester bebas styrene yang disetujui ETA, juga tersedia dalam Epoksi Murni versi Musim Dingin dan Tropis, yang disetujui ETA.
Berbagai jangkar mekanis dan jangkar throughbolt yang disetujui ETA, termasuk Pilihan 1 pada baja tahan karat A4.
Berbagai alat bertenaga serbuk otomatis dan semi otomatis profesional.
Berbagai paku dan beban yang juga cocok untuk alat pesaing.
Kami menawarkan persetujuan tingkat atas dan layanan teknis yang sangat baik.
Kantor Perwakilan Bossong untuk ASEAN yang berbasis di Bangkok ditujukan untuk menghadirkan keuntungan-keuntungan yang ditawarkan solusi teknologi Bossong bagi para profesional rekayasa dan industri bangunan di Asia Tenggara, menawarkan dukungan komersial dan teknis yang kuat kepada Pelanggan Bossong. Manajemennya sarat dengan pengalaman di pasar internasional jangkar kimia dan sistem pemasangan lainnya, serta memiliki pengetahuan yang mendalam tentang budaya bisnis Asia Tenggara. Berkat latar belakang Eropanya yang kuat serta semangat dan keluwesan yang dimiliki dan dibutuhkan untuk memahami dan beradaptasi dengan mentalitas Asia, Kantor Perwakilan Bossong untuk ASEAN memberikan nilai tambah yang signifikan bagi semua Pelanggan Bossong di kawasan.  
BOSSONG S.P.A., a former German company, is an Italian manufacturer of fastening systems since 1962. We are deeply specialized in chemical anchors (with pure epoxy as our strongest product) for anchoring and post-installed rebar connections, heavy duty fixing and powder actuated fixing. These are the most important items in our range:
Full range of chemical anchors – made in Italy - suitable for all kinds of base material and all types of application, including cracked concrete and seismic design: Polyester styrene-free ETA-approved (also available without ETA), Epoxy-Acrylate styrene-free ETA-approved, Vinylester styrene-free ETA-approved, also available in the Winter and Tropical versions, Pure Epoxy ETA-approved.
Full range of mechanical and throughbolt anchors ETA-approved, including Option 1 in A4 stainless steel.
Professional range of automatic and semi-automatic powder actuated tools.
Full range of nails and loads suitable also for competitors' tools.
We offer top level approvals and an excellent technical service.
Bossong Representative Office for ASEAN, based in Bangkok, is aimed at bringing the advantages offered by Bossong technology solutions to the professionals of engineering and of the building industry in South-East Asia, offering a strong commercial and technical support to Bossong Customers. Its management has a strong experience of international markets of chemical anchors and other fixing systems, as well as a deep knowledge of the South-East Asia business culture. Thanks to the strong European background and to the passion and flexibility needed to understand and adapt to the Asian mentality, Bossong Representative Office for ASEAN is giving significant added value to all Bossong Customers in the region.  
Date:
Monday, June 18, 2018 - 5:00pm